60th World Congress of Dance Research

Athens, 5-9 July 2023
http://2023CongressAthens.CID-world.org
Official Poster
    You are cordially invited to the largest and oldest gathering of specialists. All forms of dance, all approaches (research, performance, teaching, therapy, recreation etc.). Approximately 300 professionals from 40 countries of the 5 continents attend each congress; 12 university professors from 9 countries in the Scientific Committee.
    A presentation (optional) can be:
–  Research paper or Lecture-demonstration
–  Demonstration class
–  Performance by a company, a duo or a soloist
–  Video presentation
–  Exhibition of items, or sale of publications
    Registrations are open. Absentee conferees are also accepted (presenting without being physically present). To apply for a visa and/or financial assistance, registered conferees receive an official attestation.
Detailed information:   www.2023CongressAthens.cid-world.org 
Central CID congress website: www.Congress.CID-world.org
ΕΥΧΑΡΙΣΤΗΡΙΑ ΕΠΙΣΤΟΛΗ ΔΗΜΑΡΧΟΥ ΠΑΛΑΙΟΥ ΦΑΛΗΡΟΥ κου ΙΩΑΝΝΗ ΦΩΣΤΗΡΟΠΟΥΛΟΥ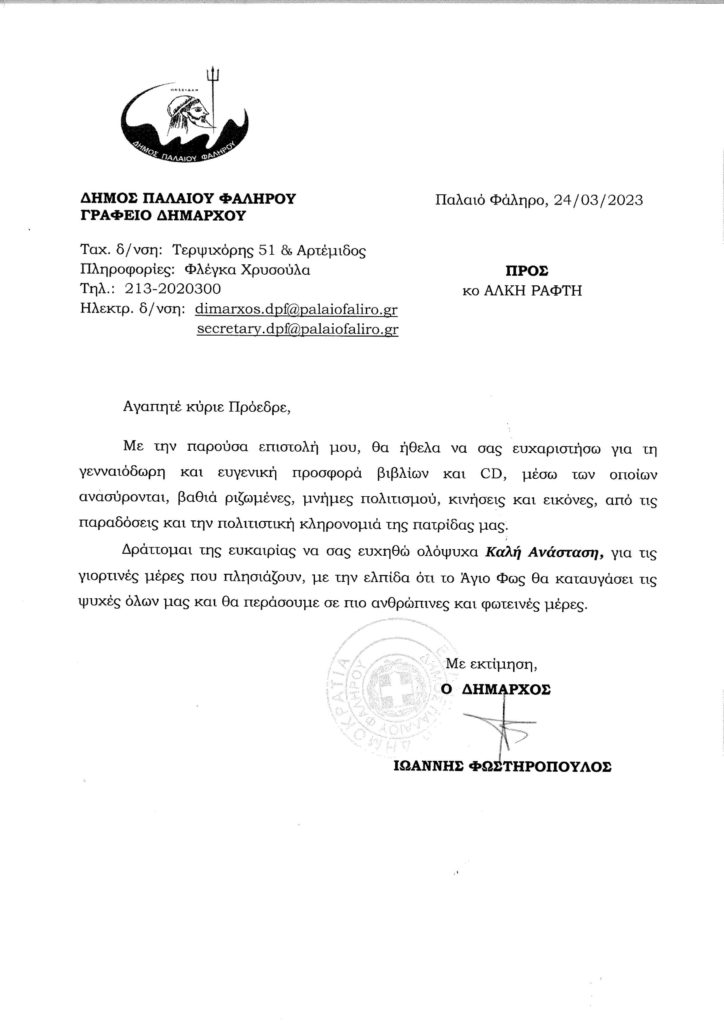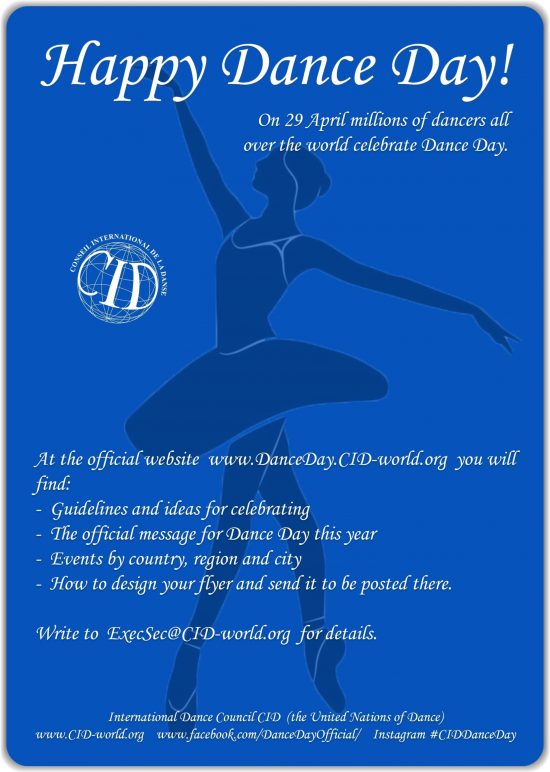 The official message for
Dance Day

29 April 2023
www.DanceDay.CID-world.org
    Same as theater, music and plastic arts, dance has its own global organization. In 2023 CID celebrates its 50th anniversary. Rather than describe what CID does, I use the opportunity to say what it does not.
    The main difference with all other dance organizations is that CID is not linked to a particular country. It was founded within the UNESCO headquarters, that is on diplomatic grounds where no government has jurisdiction. Thus members are secure that policy will not reflect a single nationality or culture or approach to dance.
    CID does not provide dance education, does not organize events, does not sell anything, so it does not compete with its members – it promotes their work and helps them upgrade it.
    CID does not have a permanent leadership, it holds elections every four years where all members vote.
    It has no representatives, its members are equal and are linked directly to its headquarters.
    Such unique features constitute the power of CID, it treats dance professionals as real members, not customers.
    Our great family will continue to grow in the next 50 years, making you proud and succesfull.
Prof. Dr. Alkis Raftis
 President of the International Dance Council   

CID, UNESCO, Paris
The official message for Dance Day is sent to dance professionals in 200 countries. Translate the message to your language, post it online, send it to the media. Find guidelines for your own celebration as well as previous DD messages at www.DanceDay.CID-world.org

Dance Day, every year on 29 April, established in 1982 and monitored by CID, aims at attracting attention to the art of dance. It is celebrated by millions of dancers around the globe. On that day dance professionals organize an event addressing an audience different from their usual one.
–  The International Dance Council CID is the official global organization for Dance
–  Its members are the most prominent federations, schools, companies and individuals in more than 170 countries
–  CID was founded in 1973 within the UNESCO headquarters in Paris, where it is based
–  CID is official partner of UNESCO, the United Nations Educational, Scientific and Cultural Organization.